INCI Ingredient list
Green tea infused with Jasmin Flowers
Jasmine Dragon Pearl Green Tea

INCI

Green Tea infused with Jasmine Flowers

Source

Camellia Sinensis Leaf and Jasmine Flowers

Grade

100% pure, free of artificial flavors

Aroma

Delicate, sweet, floral

Contains

Polyphenols (Flavonoids), Catechins, Caffeine, Theanine, Tannins Linalool, Phytol

Properties

Antioxidant, Anti-inflammatory

Benefits

Jasmine Tea has been associated with many health benefits such as promoting alert relaxation and supporting a healthier response to stress. Jasmine Tea also supports a healthy gut through its prebiotic action that sustains your microbiome.

Harvest

Our premium quality Jasmine Dragon Pearl Green Tea is cultivated in the mountains of the Fujian region in China where the finest green teas are produced. Jasmine Pearls are hand-rolled from spring-picked young green tea leaves. The rolled pearls are dried, then blended with unopened night-blooming jasmine flowers for 7 nights to achieve the desired strength of aroma. In hot water, the pearls open gradually to reveal the dragon with its subtle, sweet flavor and highly fragrant, floral aroma.
1

We're obsessive about everything that goes into our products. So much so, that we named our company after what's inside – Ingredients®.

2

100% plant-based and fully compostable, our tea bags are nylon and bleach- free with material derived from corn starch.

3

Ingredients® teas are carefully sourced from the best producers around the world to ensure quality, purity and freshness. Each one of our teas is chosen for their individual therapeutic benefit in order to serve a purpose in your daily wellness routine.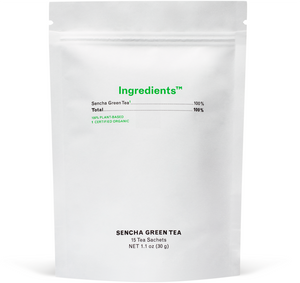 1
2
3
Complete Your Tea Essentials…
Sencha Green Tea

Regular price

$22 / 15 Sachets

Earl Grey Black Tea

Regular price

$18 / 15 Sachets

Tea Collection