1Certified Organic
Certified Organic ingredients are ingredients certified organic by third party associations such as: USDA, Cosmos, Ecocert, Otco, NAP, etc.
INCI Ingredient list
Black tea infused with Bergamot*
*Certified Organic
Organic Earl Grey Tea

INCI

Black tea infused with Bergamot essential oil

Source

Camelia sinensis leaf and bergamot fruit peel

Grade

100% pure, free of artificial flavors, Ecocert Certified Organic

Aroma

Fragrant citrus Bergamot

Contains

Polyphenols, Flavonoids, Catechins, Caffeine, Tannins, Theanine

Properties

Antioxidant, Prebiotic

Benefits

Earl Grey combines the power of Bergamot with the probiotic benefits of Black Tea so it aids in digestion and promotes immunity. Earl Grey is a black tea, and high in caffeine, so it provides and energy boost and is best enjoyed in the morning or early afternoon.

Harvest

Our organic Earl Grey Tea is cultivated at the base of the Himalayas in Dooars, India. Hand-picked Assamica leaves are withered, rolled, oxidized and dried before being infused with Organic Bergamot Essential Oil from the region of Calabria, Italy. Named after Earl Charles Grey who was England's Prime Minister from 1830 to 1834, this Black Tea reveals a bright, refreshing and bold taste with a fragrant twist of citrus Bergamot.
1

We're obsessive about everything that goes into our products. So much so, that we named our company after what's inside – Ingredients®.

2

100% plant-based and fully compostable, our tea bags are nylon and bleach- free with material derived from corn starch.

3

Ingredients® teas are carefully sourced from the best producers around the world to ensure quality, purity and freshness. Each one of our teas is chosen for their individual therapeutic benefit in order to serve a purpose in your daily wellness routine.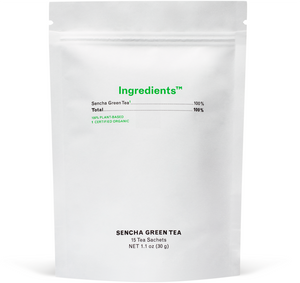 1
2
3
Complete Your Tea Essentials…