100% Plant-Based Formula
1Certified Organic
Certified Organic ingredients are ingredients certified organic by third party associations such as: USDA, Cosmos, Ecocert, Otco, NAP, etc.
INCI Ingredient list
Simmondsia Chinensis (jojoba) Seed Oil*, Andansonia Digitata Seed Oil*, Copaifera Officinalis (Balsam Copaiba) Resin*, Citrus Aurantium Dulcis (Orange) Peel Oil*, Vanilla Planifolia Fruit Extract (and) Alcohol*, Lavandula Angustifolia (lavender) Flower Oil*, Rosmarinus (rosemary) Officinalis Leaf Oil *
*Certified Organic
Organic Jojoba Oil

INCI

Simmondsia Chinensis (Jojoba) Seed Oil

Grade

100% pure, unbleached, unadulterated, raw certified, cold-pressed, USDA Certified Organic

Aroma

Faint, sweet, and nutty

Contains

Fatty acids, fatty alcohols, Omega 9, Vitamin B Complex, E, and Minerals

Properties

Antioxidant, Anti-inflammatory, Antibacterial, Hypoallergenic, Non-comedogenic

Benefits

Jojoba Oil has a chemical composition much like the sebum found in human skin. While it has oil in its name, Jojoba Oil is actually a liquid wax ester. It is rich in Vitamin E and Omega 9 so it deeply nourishes, protects, and soothes the skin, without leaving it oily. Its anti-inflammatory properties make it effective for treating acne-prone and sunburned skin. It expedites wound healing and stimulate collagen production, yet safe for the most sensitive skin. It can also be used to condition hair and add shine.

Harvest

Our organic Jojoba Oil comes from the fields at Kibbutz Hatzerim, located in the southern portion of Israel, and harvesting begins in late August during the summer months and dry season. The manufacturing facility is surrounded by farms, making it easy and sustainable to transport our seeds to the manufacturing facility. After the seeds are gathered from the Jojoba shrubs, they are transferred to a container and are taken to a facility in the Kibbutz for cleaning, drying, and crushing. Jojoba Oil is produced by cold pressed extraction. Using this method, the oil is not heated, so it retains all of its beneficial properties. Our Jojoba Oil is unrefined and clear golden in color. Sustainably grown and processed.

Organic Baobab Oil

INCI

Adansonia Digitata Seed Oil

Grade

100% pure, unadulterated, unrefined, cold pressed, USDA Certified Organic

Contains

Omega 3, 6 & 9; Vitamins A, D, E & K; Minerals

Properties

Antioxidant, Anti-inflammatory, Regenerative, and Nourishing

Benefits

Baobab Oil is an excellent moisturizer for the skin and it helps maintain a healthy skin moisture barrier so skin stays soft and smooth. It is full of rich, fatty acids which help fight inflammation and soothe irritated skin conditions such as eczema and psoriasis. And, because Baobab Oil is a lightweight oil, it is absorbed quickly into the skin and doesn't clog pores, making it safe and effective for acne sufferers and those with sensitive skin. Its high vitamin concentration makes it effective in protecting the skin against free radicals and reducing skin damage caused by UV rays. Baobab Oil also reduces frizz when applied to the hair and promotes a nourished, healthy scalp.

Harvest

Our organic Baobab Oil is hand-processed in Africa, Senegal. The Baobab fruit grows throughout the savannahs of Africa and the baobab tree itself is a bit of an iconic emblem in these regions. The fruit matures during the dry season and drops off the trees when ready. The fruit husks are then gathered and transported to a central processing facility. There, the seeds are extracted from the baobab fruit husk by cracking the hard outer capsule to release them, after which a tumbling machine removes their powder coating and then they are air dried in the hot sun. The Baobab seed oil is then extracted by a large press, or expeller. A cold pressing process of these seeds avoids any heated process which would destroy the valuable properties of the oil. The newly pressed oil is immediately filtered to help clarify the oil, which is then bottled. The baobab oil does not undergo any further refinement or processing and has no additives.

Organic Copaiba Oil

INCI

Copaifera officinalis resin

Grade

100% pure, unadulterated, USDA Certified Organic

Aroma

Sweet, earthy, woody scent

Contains

Beta-caryophyllene, sesquiterpene, fatty acids, resins, and essential oils

Properties

Anti-inflammatory, Antibacterial

Benefits

Copaiba Oil is one of the most anti-inflammatory substances found in nature, thanks to the compound beta-caryophyllene, which is the same active found 
in CBD oil. It is an exceptional ingredient for soothing muscles and joint pain, treating infection, and healing and fading scars due to acne, blisters, and stretch marks. It can also ease congestion in the chest and give the immune system 
an extra boost. Copaiba Oil's emollient properties make it an excellent skin care ingredient for its ability to help the skin retain moisture while it evens the skin tone.

Harvest

Our Copaiba trees are organically grown in the tropical rainforests of Brazil and naturally produce copaiba resin. The tree's resins are extracted during the dry season. A hole is punched into the trunk of the tree, then a pipe is inserted into the hole, allowing the resin to flow out. The Copaiba essential oil is made from the Copaiba resin. It is extracted from the oil-resin using a steam distillation process. Sustainably grown and processed.

Organic Orange Essential Oil

INCI

Citrus Aurantium Dulcis Peel Oil

Grade

100% pure, unadulterated, USDA Certified Organic

Aroma

Fresh, light, sweet, citrus

Contains

More than 200 components and Minerals such as Calcium, Magnesium, Folate and Vitamins A, B, and C

Properties

Antioxidant, Antibacterial, Anti-inflammatory, Anti-aging and Detoxifying

Benefits

Orange Oil soothes dry, irritated skin while stimulating collagen production for a smoother and brighter complexion. It also acts as a detoxifying tonic that provides a barrier of protection against free radicals. Orange Oil has anti-microbial properties that prevent bacterial growth on cuts, bites and abrasions where infection might otherwise occur. Used in massage, it aids in increasing blood flow, relieving stress and relaxing muscles.

Harvest

Our organic oranges are grown and harvested in Florida (USA) from June to July. Florida oranges are known for their high quality and pleasing aroma due to the unique soil and prime climate to create exactly the right conditions for growing oranges. Once ripe, the oranges are picked and the Orange Essential Oil is obtained by cold pressed extraction of the orange's outer peels, also called skins or rinds. This extraction yields 0.3-0.5% of essential oil. Sustainably grown and processed.

Organic Vanilla Extract

INCI

Madagascar Vanilla -Bourbon Vanilla- Vanilla Planifolia Fruit Extract

Grade

100% pure, unadulterated, Ecocert Certified Organic

Aroma

Balsamic, vanilla, sweet, creamy, woody, caramel

Contains

More than 200 compounds including B Vitamins,vNiacin, Thiamin, Riboflavin, Vitamin B6, and Pantothenic Acid

Properties

Anti-oxidant, Anti-inflammatory, Antibacterial, Soothing

Benefits

Vanilla has natural anti-inflammatory and anti-bacterial properties which work synergistically to soothe and calm red, irritated skin as well as heal wounds, burns, cuts and acne. It is proven to help repair and prevent fine lines, wrinkles and hyperpigmentation. Vanilla is a versatile yet gentle essential oil suitable for sensitive and all skin types.

Harvest

Madagascan bourbon vanilla beans are the most popular and sought-after vanilla variety due to their superior flavor and aromatic qualities. Our organic beans are harvested north west of the island. The green beans are hand-picked from the orchids of the genus vanilla flowers before they are fully ripe. The beans go through a curing process that can take up to 9 months to complete and includes blanching in boiling water, fermenting for several days and drying for weeks under the sun to evolve into brown, fragrant pods. When cured, the vanilla beans go through the solvent extraction process of steeping chopped, cured vanilla beans in alcohol and then distilling off a majority of the spirit. Sustainably grown and harvested.

Organic Lavender Essential Oil

INCI

Lavandula Angustifolia Mill.

Grade

100% pure, unadulterated, USDA Certified Organic

Aroma

Fresh floral, sweet herbaceous, camphoreous scent

Contains

Over 100 Phytocompounds, Linalyl Acetate Linalool Cis-β-Ocimene,Trans-β-Ocimene,Terpinen-4-Ol, 3-Octanone, Lavandulyl Acetate

Found In

Body Oil, Deodorant, Oil Complex

Properties

Analgesic, Antidepressant, Anti-inflammatory, Antimicrobial, Antiseptic, and Antitoxic

Benefits

Lavender Essential Oil features natural anti-inflammatory properties that soothe redness and irritation and provide relief for discomfort associated with eczema, psoriasis, burns and other skin conditions. It is also effective in speeding the healing process of skin tissue in the event of a cut or scrape. Lavender's antibacterial qualities help prevent infections in wounds and control acne. Rich in antioxidants, Lavender acts as a protective barrier against harmful free radicals and promotes a healthy complexion.

Harvest

Our organic Bulgarian Lavender Essential Oil, has superior therapeutic and fragrance qualities due to the specific geographic and climate conditions in the area. The flowers are grown in high altitude in the rose valley of central Bulgaria and are harvested from July to August. The flowers are picked only on warm, quiet days when the plants naturally contain the highest levels of essential oil compounds.The oil is obtained by steam distillation of the flowering tops of the lavender plant and yields 1.4%-1. Sustainably grown and processed.

Organic Rosemary Essential Oil

INCI

Rosmarinus officinalis

Source

Leaves, flowers, and buds

Grade

100% pure, unadulterated, USDA Certified Organic

Aroma

Camphor, conifer, resinous

Contains

53 chemical compounds (such as Phenolic Acids, Flavonoids, and Diterpenoid) and Rosmarinic Acid

Found In

Purifying Spray, Body Oil, Deodorant

Properties

Antibacterial, Antiviral, Antioxidant

Benefits

Rosemary essential oil contains anti-bacterial compounds which deeply purify and cleanse the skin. Its antimicrobial and antioxidant properties also prevent bacterial growth and help preserve formulas longer. Rosemary essential oil also stimulates circulation and encourages lymphatic drainage so harmful toxins are expelled from the skin, resulting in a more radiant complexion. It is effective in balancing the skin's natural oils, whether skin is dry or oily.

Harvest

Our organic rosemary is grown wild in the mountainous regions of Tunisia. The fresh leaves and flowering tops are harvested between May and June, and steam distilled. It yields 1 to 2% of essential oils. Sustainably grown and processed.
1

We're obsessive about everything that goes into our products. So much so, that we named our company after what's inside – Ingredients®.

2

We all have a right to know exactly what we put on and in our bodies, so that we can judge its use, benefit, or potential harm. This is so important that we have placed every ingredient – the exact percentage formulation in fact – directly on the front of our bottles for all to see and share. How radical!

3

The best available ingredients are critical in producing great products. But it doesn't stop there. Each unadulterated ingredient in our formulations are carefully sourced and transported directly from the best producers around the world – from organic farming whenever possible – to ensure purity & freshness. We do the hard work so you don't have to.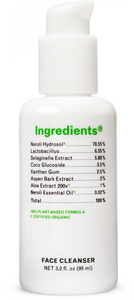 1
2
3
Complete Your Body Essentials…