100% Plant-Based Formula
1Certified Organic
Certified Organic ingredients are ingredients certified organic by third party associations such as: USDA, Cosmos, Ecocert, Otco, NAP, etc.
INCI Ingredient list
Sclerocarya Birrea seed oil*, Rosa Canina fruit oil*, Hippophae Rhamnoides Fruit Oil*, Citrus Aurantium Amara (bitter orange) Flower oil*, Lavandula Angustifolia (lavender) Flower Oil*
*Certified Organic
Organic Marula Oil

INCI

Sclerocarya Birrea seed oil

Grade

100% pure, unadulterated, unrefined, cold pressed, USDA Certified Organic

Contains

Omega 3, 6, & 9, Fatty Acids, Flavonoids, Vitamins C & E, and Minerals

Properties

Antioxidant, Anti-Inflammatory, Tonic, Collagen-Enhancing, Protective

Benefits

Marula Oil is very hydrating and enhances skin elasticity. supports skin health and helps to repair damage caused by pollutants. It facilitates the healing of inflammation and redness while calming acne-prone skin. Marula Oil helps skin to retain moisture, rejuvenates the complexion and diminishes the appearance of wrinkles. Marula Oil works to repair skin ailments such as scars, stretch marks, and eczema. It can also treat dry, cracked skin and promote skin regeneration.

Harvest

Our Organic Marula Oil is extracted from the seeds of the fruit produced by the African savannah tree, Sclerocarya Birrea, in Mozambique. The Marula tree grows to a height of up to 20 meters and bears up to 500kg of fruit per year. Between January and April, these ripe, golden ovals fall to the ground where they ripen until ready to be harvested and collected from the ground by hand. The kernels are cold pressed mechanically and the oil thus obtained is filtered through a natural process that allows to obtain a residue-free oil, with a golden color, which maintains its vital nutrients. Sustainably grown and processed.

Organic Rosehip Seed Oil

Grade

100% pure, unadulterated, unrefined, cold pressed, USDA Certified Organic

Aroma

Very earthy, close to dry fall leaves and herbal teas

Contains

Linoleic Acid, Flavonoids, Carotenoids, and Vitamins A & C

Properties

Antioxidant, Regenerative, Anti-Inflammatory, Hydrating, Firming

Benefits

Rosehip Oil absorbs quickly into the skin and replenishes the skin's moisture while creating a barrier that locks in hydration. Its high concentration of Vitamins A and C brighten the skin while fatty acids soothe skin afflicted by dryness, eczema, and psoriasis while encouraging the skin to repair itself. Rosehip Oil works to restore skin's elasticity and boost collagen production so skin tone appears more even and the appearance of enlarged pores, age spots or acne scars is reduced.

Harvest

Our organic Rosehip Oil is cold-pressed extracted from the seeds of the rose bush. From late summer to autumn, after the flowers have been pollinated, the fertilized flowers begin to die and the petals fall off. In order to protect the growing rose seeds, the flower's base continues to develop, producing a reddish-orange flesh known as the Rosehips. During the harvest, Rosehips have remaining blooms trimmed off before they are clipped off the bush as closely as possible to their bases. They are then washed, dried and cooked in water until the seeds float to the surface. The extracted seeds are then dried and cold-pressed. One ounce of Rosehip Carrier Oil requires approximately 60,000 blooms. Sustainably grown and processed.

Organic Sea Buckthorn Fruit Oil

INCI

Hippophae rhamnoides fruit oil

Grade

100% pure, unadulterated, unrefined, cold pressed, USDA Certified Organic

Contains

Essential Amino Acids, Omega 3, 6, 9, & 7, Minerals, Vitamins A, B1, B12, C, E, K, & P, Flavonoids, Lycopene, Carotenoids, Phytosterols

Properties

Anti-inflammatory, Regenerative and Hydrating

Benefits

Sea Buckthorn Fruit Oil is an excellent healing and hydration agent as it is rich in fatty omega acids. It absorbs quickly into the skin and inhibits damage caused by free radicals and regenerates skin cells, making this oil ideal for combating wrinkles, and soothing dry, inflamed skin. Sea Buckthorn Oil's healing properties also help provide relief for wounds, skin abrasions and sunburn and provide pain relieving effects.

Harvest

Our Organic Sea Buckthorn trees are grown in Finland and the fruits are harvested between August and September. The oil is obtained through a cold press extraction of the fleshy pulp of the tart, orange berries fruits to keep nutrients from degenerating due to heat exposure. In this process, the oil is forced from the berries using only mechanical pressure. Sustainably grown and processed.

Organic Neroli Essential Oil

INCI

Citrus aurantium flower

Grade

100% pure, unadulterated, Organic Ecocert Certified

Aroma

Sweet, spicy, bitter fragrance of orange blossom

Contains

About 81 chemical compounds including Esters, Terpene Hydrocarbons, and Terpene Alcohols: Linalool, Limonene, Pinene

Found In

Face Cleanser, Oil Complex

Properties

Antiseptic, Antibacterial, Anti-inflammatory, Cicatrisant

Benefits

Neroli Oil is recommended to reduce redness and irritation. It is beneficial for all skin types, especially dry sensitive skin with broken capillaries. The rejuvenating properties of Neroli stimulate skin cell regeneration and improve elasticity which helps prevent and repair wrinkles, scar tissue, and stretch marks. Neroli Oil promotes smoother skin and improves hyperpigmentation and is especially effective in treating pimples and acne while reducing redness associated with breakouts.

Harvest

Our orange trees are grown in the province of Khemisset, Morocco. After the tree is planted, it takes at least 5 years before the first flowers can be harvested.The tree blossoms once a year, from April to late May. Grouped in clusters, the buds open one by one during the month-long blossoming period. The flower pickers go over each tree around 5 times, picking the blossoms as they open and leaving the bud for later. The flowers are harvested by a women's organization in the morning by hand and hydro distilled within 24 hours following the picking. It takes about 1000 lbs. of orange blossoms to make 1 lb. of Neroli oil with a yield ranging from 0.08% at the beginning of the season to a maximum of 0.13% under the most favorable conditions.The annual world production of Nerolì is today less than 2000 Kg at 7000$/kilo. Sustainably grown and processed.

Organic Lavender Essential Oil

INCI

Lavandula Angustifolia Mill.

Grade

100% pure, unadulterated, USDA Certified Organic

Aroma

Fresh floral, sweet herbaceous, camphoreous scent

Contains

Over 100 Phytocompounds, Linalyl Acetate Linalool Cis-β-Ocimene,Trans-β-Ocimene,Terpinen-4-Ol, 3-Octanone, Lavandulyl Acetate

Found In

Body Oil, Deodorant, Oil Complex

Properties

Analgesic, Antidepressant, Anti-inflammatory, Antimicrobial, Antiseptic, and Antitoxic

Benefits

Lavender Essential Oil features natural anti-inflammatory properties that soothe redness and irritation and provide relief for discomfort associated with eczema, psoriasis, burns and other skin conditions. It is also effective in speeding the healing process of skin tissue in the event of a cut or scrape. Lavender's antibacterial qualities help prevent infections in wounds and control acne. Rich in antioxidants, Lavender acts as a protective barrier against harmful free radicals and promotes a healthy complexion.

Harvest

Our organic Bulgarian Lavender Essential Oil, has superior therapeutic and fragrance qualities due to the specific geographic and climate conditions in the area. The flowers are grown in high altitude in the rose valley of central Bulgaria and are harvested from July to August. The flowers are picked only on warm, quiet days when the plants naturally contain the highest levels of essential oil compounds.The oil is obtained by steam distillation of the flowering tops of the lavender plant and yields 1.4%-1. Sustainably grown and processed.
1

We're obsessive about everything that goes into our products. So much so, that we named our company after what's inside – Ingredients®.

2

We all have a right to know exactly what we put on and in our bodies, so that we can judge its use, benefit, or potential harm. This is so important that we have placed every ingredient – the exact percentage formulation in fact – directly on the front of our bottles for all to see and share. How radical!

3

The best available ingredients are critical in producing great products. But it doesn't stop there. Each unadulterated ingredient in our formulations are carefully sourced and transported directly from the best producers around the world – from organic farming whenever possible – to ensure purity & freshness. We do the hard work so you don't have to.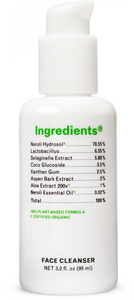 1
2
3
Complete Your Skin Essentials…