100% Plant-Based Formula
1Certified Organic
Certified Organic ingredients are ingredients certified organic by third party associations such as: USDA, Cosmos, Ecocert, Otco, NAP, etc.
INCI Ingredient list
Ethanol *, Thymus Vulgaris Water *, Glycerin *, Citrus Medica Limonum (lemon) Peel Oil, Litsea Cubeba Fruit oil*, Cinnamomum camphora linalooliferum wood oil *, Rosmarinus (rosemary) Officinalis Leaf Oil *
*Certified Organic
Organic Sugar Cane Alcohol

Grade

100% pure, extra neutral, USP, Non-GMO, no additives, USDA Certified Organic

Contains

Alcohol, Aldehydes, Esters, and Methanol

Found In

Purifying Spray, Deodorant

Properties

Antibacterial, Disinfectant, Solvent, Preservative

Benefits

Sugarcane alcohol is a powerful yet gentle disinfectant. It kills 99.9% of bacteria on the skin and is fast-drying. The Centers for Disease Control (CDC) recommends using alcohol-based hand sanitizer that contains at least 60% alcohol for controlling the spread of infection and sickness when hand-washing is not an option. Sugarcane alcohol naturally fights door-causing bacteria, including bacteria found under the arms. Its astringent properties help tone the skin and reduce pore size.

Harvest

Our Sugarcane Alcohol is organically grown and harvested in Brazil. The sugarcane is crushed and then fermented. Next, the fermented sugarcane juice is distilled a minimum of five times to ensure its purity. It is then filtered before it is stored. Sustainably grown and processed.

Organic Thyme Hydrosol

INCI

Thymus Vulgaris water

Source

Flowering tops, leaves, and stem

Grade

100% pure, unadulterated, Ecocert and Cosmos Certified Organic

Aroma

Camphoreous, herbaceous, fresh, and minty

Contains

Thymol, Para-cymene, Y-terpinene

Properties

Antioxidant, Antibacterial, Antimicrobial, Anti-inflammatory, Antiseptic

Benefits

Thyme Hydrosol is effective in preventing bacteria growth and is effective in warding off viruses. It is a mild cleansing agent and is recommended for cleaning wounds and treating and soothing skin infections, acne, and insect bites. Thyme water is also a natural pain reliever and is proven to reduce minor muscular pain inflammation.

Harvest

Our Organic Thyme grows in sunny fields along the hillside in the south of France. The blooming branches are harvested in June and July when their fragrance is most concentrated. Our Thyme Hydrosol is obtained by steam distillation and is 100% natural and pure. It does not contain any additives, preservatives, synthetic substances or fragrances. Sustainably grown and processed.

What is a Hydrosol

The word hydrosol is derived from the Latin hydro, meaning "water," and sol, for "solution." Hydrosols, also known as hydrolates and plant or floral waters, are produced using the same process as essential oils, the distinction between the two is in the chemical make-up of the end product. During the steam-distillation process, essential oils will float to the top of the distillate where it is removed, leaving behind the watery distillate - the hydrosol. While some manufacturers add essential oils to purified water and call it a plant water, that is not a hydrosol! We use only true hydrosols made from the steam-distillation of fresh plant materials. We never use additives such as synthetic fragrance or preservatives. The hyrdosols are the condensated water produced from the steam. Not only do they hold essential oil molecules, they carry the fluid that was coursing through the plant cells (cellular water) when the plant was gathered. Hydrosols contain between 0.02 –0.05% of the hydrophilic parts of an essential oil, producing a softer fragrance and offering a much milder alternative to essential oils.

Organic Vegetable Glycerin

Source

Organic flax seed oil

Grade

100% pure, Non-GMO, USDA Certified Organic, USP, Food Grade

Found In

Deodorant, Hand Purifying Spray, Throat Spray

Properties

Emollient, Humectant

Benefits

Vegetable Glycerin is a natural humectant which acts as an emollient in many skincare applications. Its moisturization properties support the healing of dry skin and improves skin elasticity, leaving skin feeling soft and smooth. Vegetable Glycerin is noncomedogenic, so it won't clog pores, and is safe for all skin types, even acne-prone skin. It helps protect the skin from environmental impurities and strengthens the skin's moisture barrier. Vegetable Glycerin also aids in the efficacy of our throat spray by optimizing its lubricating benefits while contributing a natural sweetness.

Harvest

Our Vegetable Glycerin is ethically and sustainably produced from non-GMO flax seeds. It is completely palm free and is a superior, vegan, pharmaceutical quality glycerin that meets USP standards. It is carefully produced, packaged and stored to maintain the purity, freshness, humectant and other beneficial properties of this versatile product. Vegetable Glycerin is the result of a sophisticated extraction method called hydrolysis, with the final product being referred to as vegetable glycerine. This system is based on the fats and oils of a raw product that are then split into crude glycerol fats, under the combined action of water, temperature, and pressure. These temperatures can exceed 400° degrees and the material is usually kept under pressure for 20-30 minutes. After this, phase this glycerol is isolated and further distilled to result in a standard 99% pure glycerine product.

Organic Lemon Essential Oil

INCI

Citrus medica limonum peel oil

Grade

100% pure, unadulterated, Ecocert and Cosmos Certified Natural

Aroma

Fresh, sparkling, reminiscent of fruit zest

Contains

About 21 compounds including Vitamins A, B and C, Minerals such as Calcium, Magnesium and Folate

Properties

Antimicrobial, Antioxidant, Purifying, Antibiotic, Antiseptic, Astringent, Antifungal and Cicatrizing

Benefits

Lemon Oil naturally contains anti-bacterial properties which effectively sanitizes the skin, and also purifies and deodorizes objects and the air. It can be used to cleanse surfaces of harmful pathogens like bacteria and fungi. Research shows that Lemon Oil helps to reduce inflammation and acne and is also effective against skin issues like blisters, insect bites, greasy and oily conditions, cuts, wounds and viral infections of the skin like cold sores and warts.

Harvest

Our organic lemons are grown and harvested in the Tucuman Provence in Argentina. Argentina Lemons are known for their high quality and great scent due to the unique soil and prime climate to create exactly the right conditions for growing lemons. They are hand-picked while they are still green and unripe, as they ripen and turn yellow while they are being transported to the essential oil production facility. Lemon Essential Oil is obtained by the cold expression of fresh lemon fruit peels – also called skins or rinds. Our Lemon Essential Oil is rectified which removes most of the furo-coumarins (which are potential photosensitizers that can cause skin damage when exposed to the sun). Sustainably grown and processed.

Organic Litsea Cubeba Essential Oil

Grade

100% pure, unadulterated, Ecocert Certified Organic

Aroma

Fruity, herbeceous, and complex lemony aroma

Contains

About 33 compounds including Vitamins such as A, E, and K

Properties

Antioxidant, Antibacterial, Antifungal, Anti-inflammatory

Benefits

Litsea Cubeba's composition makes it naturally effective at killing harmful bacteria and cleansing pores of environmental impurities, resulting in clean and clear skin. Litsea Cubeba regulates oil production to bring balance to acne-prone skin. It also has deodorizing properties that can be used to control body odor. Litsea Cubeba is the most effective of all essential oils for repelling mosquitos.

Harvest

Our organic Litsea Cubeba trees are grown in Vietnam. The berries are harvested from July through September. The essential oil is derived from the small, pepper-like fruits through steam distillation. This extraction yields 3 - 5% of essential oil.

Organic Ho Wood Essential Oil

INCI

Cinnamomum camphora var. linaloolifera wood oil

Source

Wood, bark, and leaves

Grade

100% pure, unadulterated, Certified Organic Ecocert

Aroma

Sweet, fresh and woody, with subtle floral notes

Contains

Linalool, cineole, nerolidol

Properties

Antifungal, Anti-inflammatory, Antimicrobial, Antiseptic, Antiviral

Benefits

Ho Wood Oil is a strong antibacterial agent, both purifying the skin and preventing bacteria growth. It sinks deeply into the skin and promotes cell regeneration and faster healing of wounds. Ho Wood Oil is also effective for repelling mosquitos.

Harvest

Grown in China, the Ho Wood tree is a species of evergreen that is commonly known by the name camphor tree. Our organic Ho Wood grows in abundance in China and the harvesting of its leaves plays a beneficial role in the local eco-system. Ho Wood Essential Oil is obtained by steam distillation of the leaves, bark and twigs. Yield is around 2%.

Organic Rosemary Essential Oil

INCI

Rosmarinus officinalis

Source

Leaves, flowers, and buds

Grade

100% pure, unadulterated, USDA Certified Organic

Aroma

Camphor, conifer, resinous

Contains

53 chemical compounds (such as Phenolic Acids, Flavonoids, and Diterpenoid) and Rosmarinic Acid

Found In

Purifying Spray, Body Oil, Deodorant

Properties

Antibacterial, Antiviral, Antioxidant

Benefits

Rosemary essential oil contains anti-bacterial compounds which deeply purify and cleanse the skin. Its antimicrobial and antioxidant properties also prevent bacterial growth and help preserve formulas longer. Rosemary essential oil also stimulates circulation and encourages lymphatic drainage so harmful toxins are expelled from the skin, resulting in a more radiant complexion. It is effective in balancing the skin's natural oils, whether skin is dry or oily.

Harvest

Our organic rosemary is grown wild in the mountainous regions of Tunisia. The fresh leaves and flowering tops are harvested between May and June, and steam distilled. It yields 1 to 2% of essential oils. Sustainably grown and processed.
1

We're obsessive about everything that goes into our products. So much so, that we named our company after what's inside – Ingredients®.

2

We all have a right to know exactly what we put on and in our bodies, so that we can judge its use, benefit, or potential harm. This is so important that we have placed every ingredient – the exact percentage formulation in fact – directly on the front of our bottles for all to see and share. How radical!

3

The best available ingredients are critical in producing great products. But it doesn't stop there. Each unadulterated ingredient in our formulations are carefully sourced and transported directly from the best producers around the world – from organic farming whenever possible – to ensure purity & freshness. We do the hard work so you don't have to.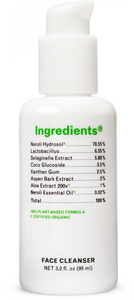 1
2
3
Complete Your Care Essentials…