100% Plant-Based Formula
1Certified Organic
Certified Organic ingredients are ingredients certified organic by third party associations such as: USDA, Cosmos, Ecocert, Otco, NAP, etc.
INCI Ingredient list
Organic Elderberry Juice

Grade

100% natural, free of fillers and additives, USDA Certified Organic

Contains

Polyphenols, Flavonoids, Vitamins B & C, Minerals such as Potassium and Phosphorus, and contains nearly four times the Anthocyanins as other commonly consumed berries

Properties

Immunity-boosting

Benefits

Elderberry Juice naturally supports a healthy immune system and has been shown to inhibit cold and flu duration and severity because of its antiviral and antibacterial properties. Studies have also shown that it can shorten the duration of severe upper respiratory symptoms, which are commonly experienced by air travelers. Elderberry Juice promotes a healthy cardiovascular system and therefore can enhance athletic performance. It also aids in healthy aging and in reducing inflammation.

Harvest

Our organic Elderberry Juice comes from premium quality berries grown on 450 cooperative farms in Austria. By summer's end, the clusters turn to red-violet stalks laden with drooping bunches of dark, juicy berries. In the fall they are entirely hand harvested to ensure all berries are picked at peak ripeness. Our concentrated Elderberry Juice is extracted using IPT, which is a completely physical, solvent-free separation, concentration and enrichment ultra-filtration process. This proprietary process has the advantage of retaining the fruit matrix, taste and aroma profile. The extracts are standardized to a minimum anthocyanin content of 3.2%. Sustainably grown and processed.

Organic Vegetable Glycerin

Source

Organic flax seed oil

Grade

100% pure, Non-GMO, USDA Certified Organic, USP, Food Grade

Found In

Deodorant, Hand Purifying Spray, Throat Spray

Properties

Emollient, Humectant

Benefits

Vegetable Glycerin is a natural humectant which acts as an emollient in many skincare applications. Its moisturization properties support the healing of dry skin and improves skin elasticity, leaving skin feeling soft and smooth. Vegetable Glycerin is noncomedogenic, so it won't clog pores, and is safe for all skin types, even acne-prone skin. It helps protect the skin from environmental impurities and strengthens the skin's moisture barrier. Vegetable Glycerin also aids in the efficacy of our throat spray by optimizing its lubricating benefits while contributing a natural sweetness.

Harvest

Our Vegetable Glycerin is ethically and sustainably produced from non-GMO flax seeds. It is completely palm free and is a superior, vegan, pharmaceutical quality glycerin that meets USP standards. It is carefully produced, packaged and stored to maintain the purity, freshness, humectant and other beneficial properties of this versatile product. Vegetable Glycerin is the result of a sophisticated extraction method called hydrolysis, with the final product being referred to as vegetable glycerine. This system is based on the fats and oils of a raw product that are then split into crude glycerol fats, under the combined action of water, temperature, and pressure. These temperatures can exceed 400° degrees and the material is usually kept under pressure for 20-30 minutes. After this, phase this glycerol is isolated and further distilled to result in a standard 99% pure glycerine product.

Organic Ginger Root Powder

INCI

Zingiber officinale root powder

Grade

100% pure, free of fillers and additives, USDA Certified Organic

Aroma

Peppery and slightly sweet with a pungent, lemony, and spicy taste

Contains

115 constituents, Gingerol, Shogaol

Properties

Antimicrobial, Anti-inflammatory, Antioxidant, and Analgesic

Benefits

Ginger has bioactive compounds that have anti-inflammatory properties that provide relief while soothing sore throats. Ginger also has antimicrobial properties that can help combat viral and bacterial infections and inhibit pathogens that cause sore throats. It also stimulates the immune system to kill viruses such as common colds, the flu, and mononucleosis. Ginger may be an alternative to antibiotics for fighting bacterial infections and may improve recovery time.

Harvest

Our organic ginger is harvested in India. Ginger root powder is prepared from the rhizome Zingiber officinale. The rhizomes are plucked from the ground and washed. The green ginger is soaked and then the skin is carefully scraped off. After its washed again, the ginger is dried in the sun on bamboo mats for 3-4 days and then milled into a fine powder. The yield of dry ginger is 15-25 percent of the fresh ginger depending upon the variety and location where the crop is grown.

Organic Lemon Juice Powder

Grade

100% natural, USDA certified organic

Contains

Vitamin C, Citric Acid, Malic Acid

Properties

Immune-boosting, antibacterial

Benefits

Lemon Juice Powder's high concentration of Vitamin C make it a powerful immunity booster that can help fight off infection and inhibit bacteria growth. It helps relieve sore throats by triggering saliva production and breaking up the mucus that can make it painful to swallow. Lemon also contains antioxidants which help detoxify the digestive system and has alkaline properties that help balance the body's pH level.

Harvest

Our organic lemons are grown and harvested in Spain.They are hand-picked while they are still green, and they ripen and turn yellow while they are being transported to the production facility. After the fruit has been delivered to the processing plant, it is washed and graded. Juice is extracted then separated from the rag, seeds, and ruptured juice sacs in a process known as finishing. They are concentrated in special evaporators utilizing low temperature evaporation and then freeze dried to maintain all the vitamins and phytonutrients.

Organic Meluka Honey

INCI

Native Australian Meluka Honey

Source

Tea Tree (Melaleuca Alternifolia) Flower

Grade

100% pure, unheated, unpasteurized, and unprocessed, USDA Certified Organic

Contains

Vitamins A, C, D, and E, and high concentrations of the B-complex Vitamins including Thiamin, Riboflavin, Niacin, Pantothenic Acid and Enzymes

Properties

Antibacterial, Antiviral, Anti-inflammatory, Antioxidant

Benefits

Meluka Honey has significant antibacterial benefits which help heal and soothe sore throats and coughs. Its strong anti-microbial properties come from the bioactive properties of the tea tree and help the body fight free radicals and prevent infection. Meluka Honey can also serve as a healthier alternative to sugar and aids in digestion.

Harvest

Our Meluka Honey is produced by bees harvesting at old growth Tea Tree plantation, Jendale. The hives are never moved or transported to ensure our honey stays consistent with integrity of the environment. Our organic raw honey is produced by bees harvesting on Jenbrook, a Certified Organic Tea Tree farm in Australia. Jenbrook backs up to protected rainforest wetlands and the birthplace of our wild-crafted Melaleuca Alternifolia Tea Trees which have been growing for over 30,000 years. Jenbrook's protected rainforest plays a vital role in our thriving bees producing honey that is superior in both taste and quality. Jendale is home to other botanical species including Leptospermum (Jelly Bush), Eucalyptus and Australian Wildflowers. The honey is produced almost year round (with the exception of winter) and is likely to contain a combination of all these botanical species. While honey harvesting has faced much scrutiny in recent years, the fact remains that bees aren't used as substrates for testing or raw materials in cosmetics, nor are they exterminated for their honey. Worldwide, bees are not harmed in the farming process. They are kept in optimal conditions where they can thrive and are never harmed in the harvesting of our honey. It is not in beekeepers' best interest to harm their bees as the bees are essential to their livelihood. In some developing areas, entire villages depend on the income from honey trade. Our responsible sourcing promotes pure, cruelty-free honey, and beekeeper safety. Sustainably processed.

Organic Turmeric Extract

INCI

Curcuma longa root powder

Grade

100% pure, no fillers or additives, USDA Certified Organic

Aroma

Earthy and bitter, musky, with a bit of peppery spice

Contains

Curcumin, Curcuminoids, Tumerone, Iron, Vitamins, & Minerals

Properties

Anti-inflammatory, antioxidant

Benefits

Turmeric Root is a potent anti-inflammatory because of its active ingredient, curcumin. Turmeric also seeks out and destroys harmful free radicals in the body that can cause long-term damage. Turmeric and curcumin have been found to prevent the growth and spread of harmful cells at a molecular level. It helps boost the immune system and cleanse the respiratory tract.

Harvest

Our Organic turmeric root powder is prepared from the rhizome Curcuma longa that have been selected, washed, cleaned, cut, dried and milled to a fine powder. Turmeric belongs to the Zingiberaceae family- the same family as ginger. It is the rhizome or the root that is used. The turmeric plant grows from the rhizome which are extracted from the ground and then washed and cleaned thoroughly. The rhizomes are boiled in water and kept for sun-drying. Within 2-3 days of sun drying, the rhizomes are again boiled with just enough water to soak them, just until the rhizomes become soft. Once cooked, these rhizomes are spread under the sun on a cement floor or bamboo mat to dry. This step takes 10-15 days. The dried turmeric is then polished, by hand or by rotating barrel, to improve the appearance. They get polished by mutual rubbing against each other. After this, the rhizomes are ground into powder.

Organic Thyme Extract

Source

Whole Leaf and Flowers

Grade

100% pure, free of fillers and additives, Certified Organic Eco-Europe

Aroma

Sweet, resin-like aroma

Contains

Vitamin A & C, Copper, Fiber, Iron & Manganese, Essential oils, Phenolic acids (Rosmarinic acid) and Flavonoids

Properties

Antioxidant, Antimicrobial, Antiseptic

Benefits

Thyme Extract is one of the best cough and sore throat remedies because it contains compounds like thymol, which inhibit the growth of bacteria and fungus and help control viral infections. Thyme reduces inflammation in the airways and provides relief for asthma, bronchitis and all kinds of coughs. Its natural expectorant properties allow it to break down mucus and provide relief from allergies and respiratory infections.

Harvest

Our Organic Thyme grows in the southern region of Spain. The flowering branches are harvested in June and July when its flavors are most concentrated when it is blooming during the dry and hot season. Our Thyme Extract is obtained by alcohol maceration. The macerate is then grounded, centrifuged, filtered, concentrated and dried at low temperature to maintain its beneficial compounds. Sustainably grown and processed.

Sorbic Acid

Grade

100% pure, USP, food grade

Contains

Sorbic acid is a natural, straight-chained fatty acid

Properties

Preservative, Antimicrobial, Antifungal

Benefits

Sorbic acid is a food preservative which protects many food varieties from yeast and mold spoilage. It is an organic compound, with naturally strong antimicrobial capabilities and is commonly used in cosmetic and dietary supplements.

Harvest

Sorbic acid gets its name from Sorbus aucuparia (rowan or mountain ash tree), because it is derived from the unripe berries of the tree. Our ash berry trees grow in Germany and the berries are best harvested after a sharp frost which starts off the bletting process and begins to break down the cell walls. Ideally the berries should be bletted, this is a process whereby the fruit is allowed to ripen beyond its current ripened state, leading to an increase in fruit sugars and beginning the process of breaking down the parasorbic acid and tannins. Ash berries contain naturally parasorbic acid which was first isolated through extraction. Once picked, the berries are crushed, then leached with water to produce a reddish juice, which is concentrated to syrup after evaporation. Parasorbic acid is separated from the syrup by steam distillation in the presence of acid.
1

We're obsessive about everything that goes into our products. So much so, that we named our company after what's inside – Ingredients®.

2

We all have a right to know exactly what we put on and in our bodies, so that we can judge its use, benefit, or potential harm. This is so important that we have placed every ingredient – the exact percentage formulation in fact – directly on the front of our bottles for all to see and share. How radical!

3

The best available ingredients are critical in producing great products. But it doesn't stop there. Each unadulterated ingredient in our formulations are carefully sourced and transported directly from the best producers around the world – from organic farming whenever possible – to ensure purity & freshness. We do the hard work so you don't have to.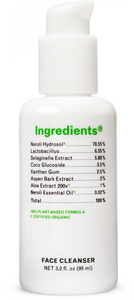 1
2
3
Complete Your Care Essentials…