1Certified Organic
Certified Organic ingredients are ingredients certified organic by third party associations such as: USDA, Cosmos, Ecocert, Otco, NAP, etc.
INCI Ingredient list
Chamomile Flower*
*Certified Organic
Organic Chamomile Tea

INCI

Roman Chamomile flower

Grade

100% pure, Ecocert Certified Organic

Aroma

Sweet, honey-like, floral

Contains

Alpha-bisabolol, Chamazulene, Flavonoids, Terpenoids, Lactones (including Matricin and Apigenin), Vitamin A, and Minerals

Properties

Antimicrobial, Antifungal, Anti-inflammatory, Antioxidant

Benefits

Chamomile Tea has properties that have been shown to aid in sleep, relaxation, and digestion.

Harvest

Our premium organic Chamomile Tea is cultivated in Egypt's Nile Valley and considered to be one of the finest in the world. Chamomile flowers bloom from January to April and are picked every 7-10 days, in the morning as the flowers open. They are hand-picked to preserve its flowering tops, the most potent part of the plant that contains high levels of essential oil. Naturally caffeine-free, chamomile's floral, sweet and earthy flavor is a perfect option for all ages to be enjoyed hot or cold at any time of the day.
1

We're obsessive about everything that goes into our products. So much so, that we named our company after what's inside – Ingredients®.

2

100% plant-based and fully compostable, our tea bags are nylon and bleach- free with material derived from corn starch.

3

Ingredients® teas are carefully sourced from the best producers around the world to ensure quality, purity and freshness. Each one of our teas is chosen for their individual therapeutic benefit in order to serve a purpose in your daily wellness routine.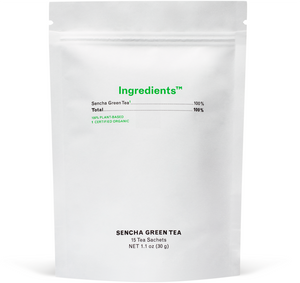 1
2
3
Complete Your Tea Essentials…
Verbena Herbal Tea

Regular price

$14 / 15 Sachets

Spearmint Herbal Tea

Regular price

$14 / 15 Sachets

Tea Collection