1Certified Organic
Certified Organic ingredients are ingredients certified organic by third party associations such as: USDA, Cosmos, Ecocert, Otco, NAP, etc.
INCI Ingredient list
Sencha Green Tea*
*Certified Organic
Organic Sencha Green Tea

Grade

100% pure, USDA Certified Organic

Contains

Polyphenols (Flavonoids), Calcium, Catechins, Folic Acid, Phosphorus, Potassium, Vitamin C, and Caffeine

Properties

Antioxidant, Anti-inflammatory

Benefits

Sencha Tea has been linked to many health benefits, including enhanced concentration, stress relief, weight loss and improved heart, oral, and immune health.

Harvest

Our Organic Sencha Green Tea is harvested in a tea farming cooperative in Shizuoka, Japan, where some of the finest teas are produced. Sencha is made from young, high quality Camellia Sinensis leaves grown under sunlight that result in higher levels of Vitamin C. The hand-picked leaves are quickly steamed to prevent oxidation, then dried and rolled to achieve a needle-like shape. The process delivers a fresh, grassy high note with a smooth body. Fruity notes and a warm, nutty finish bring together this exceptional tea.
1

We're obsessive about everything that goes into our products. So much so, that we named our company after what's inside – Ingredients®.

2

100% plant-based and fully compostable, our tea bags are nylon and bleach- free with material derived from corn starch.

3

Ingredients® teas are carefully sourced from the best producers around the world to ensure quality, purity and freshness. Each one of our teas is chosen for their individual therapeutic benefit in order to serve a purpose in your daily wellness routine.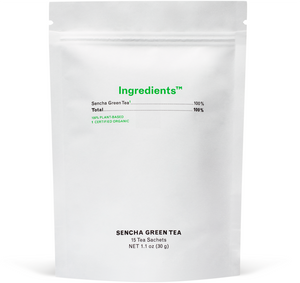 1
2
3
Complete Your Tea Essentials…