Spearmint Tea

Source

Mentha Longifolia Leaf

Aroma

Sweet, fresh, minty

Contains

Polyphenols, Flavonoids, Piperitone, Pulegone, Vitamins A, D, and B12

Properties

Antioxidant, Anti-inflammatory

Benefits

Spearmint Tea has been known to promote many health benefits such as aiding digestion and soothing sore throats. It also helps to relieve headaches and enhance focus.

Harvest

Our premium Spearmint Herbal Tea is cultivated in Marrakech, Morocco, and considered to be among the highest-quality available. The crop is harvested from July to September, when plants are in full bloom. Leaves are hand-picked in the late morning, on a dry, summer day, and air dried under shade to retain their concentrated aroma and flavor. Naturally caffeine-free, spearmint's delicate, cooling and minty flavor is a perfect option for all ages to be enjoyed hot or cold at any time of the day.
1

We're obsessive about everything that goes into our products. So much so, that we named our company after what's inside – Ingredients®.

2

100% plant-based and fully compostable, our tea bags are nylon and bleach- free with material derived from corn starch.

3

Ingredients® teas are carefully sourced from the best producers around the world to ensure quality, purity and freshness. Each one of our teas is chosen for their individual therapeutic benefit in order to serve a purpose in your daily wellness routine.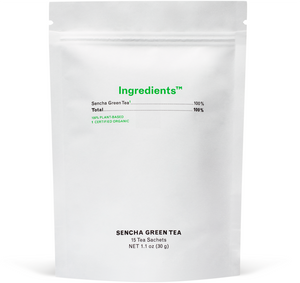 1
2
3
Complete Your Tea Essentials…
Verbena Herbal Tea

Regular price

$14 / 15 Sachets

Chamomile Herbal Tea

Regular price

$14 / 15 Sachets

Tea Collection